Podcast: Play in new window | Download
Subscribe: Apple Podcasts | RSS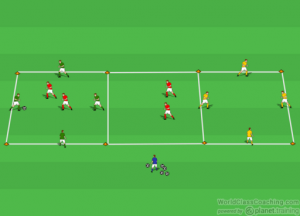 I wasn't able to schedule a time to talk with Scott Moody of SoccerFIT about their new soccer conditioning app this week. I decided I would spend my time putting the show notes together for last weeks show on directional rondos.
So go back to episode 152 and you'll find a link to those notes. Nothing fancy here; I just put diagrams of the activities into my outline of the show. Hopefully they paint the picture of the activities well enough.
With next Wednesday being the 4th of July here in the States, I'm not sure if I'll have a podcast or not. If I don't release the interview with Scott Moody next week it will definitely be the week after.