Podcast: Play in new window | Download
Subscribe: Apple Podcasts | RSS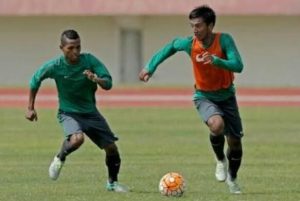 Last weekend I feel like I coached three great game and one awful one. The players weren't awful, it was me.
I have a team that's playing up an age group and there were promoted to the first division after a very good fall season. The difference between DI and DII is substantial and it's been a difficult spring for the team.
They played well in the first half this weekend and were up a goal at halftime. We talked about ways we could improve in the second half. Unfortunately, they had a tough time with their first touch and we couldn't seem to put anything together. I started to get frustrated and the players could tell. As I became more frustrated they became more tentative. I didn't realize it at the time but my reaction to their poor play was only making it worse.
In hindsight I see that I lost my perspective and stopped teaching and encouraging. I'm committed to reacting differently the next time I have a team that's struggling and needs my help.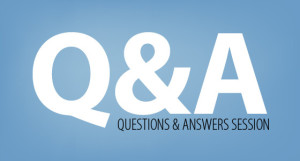 This week's question comes from Joseph. He's asking about encouraging players to be more assertive.
Joseph says,
"I am a volunteer coach of two Girls U9/10 travel teams at a regional club. Between the U9 and U10 groups, I have 19 girls all together. I train them together twice per week and then we split up for our League and Tournament games. As you know, the format change from 4v4 to 7v7 is quite a change for the kids to get used to.
I have really struggled with my U9 girls not being aggressive when playing with or against older girls. I think it's a combination of the age difference and the new format.
We have adopted the Play/Practice/Plan training format. We typically have all the girls mixed up for the first Play section. We split them up by age for the practice portion since they are at different stages of development. Then we take some time to scrimmage at the end of training by mixing all the girl up to play a full 7v7 scrimmage.
Do you have any suggestions on how to encourage younger players playing with older players to be more assertive on the field?"
Thanks for the question Joseph!
I find that young players are going to be assertive in close proportion to how confident they are. Some kids are just naturally less assertive but I think that can be traced back to confidence as well. So I would be focused on what you can do to increase their confidence. Confidence comes from previous success and an expectation of possible (or even probable) success.
It could be that the younger girls don't feel like they can compete with the older ones so they're less likely to try their best. I might do more smaller-sided scrimmages before the 7v7 game at the end so that they can play with the kids their own age. If you see more confident and assertive play when their with their own age you can point that out to them and see if being aware of the difference helps them gain the confidence they need to play harder with the older girls.
In This Episode
Today I want to talk about a session that I've used in the past but I revisited it this week and found myself coaching it much differently than before.
Here's the setup for the Tic-Tac-Toe Warm-Up game that I described.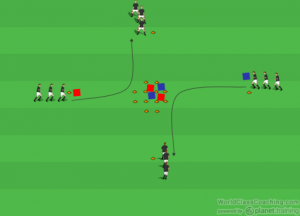 Show Notes
Here's a link to episode #010 Training Session to Break Lines of Pressure. The training session I talk about today is the same but what we focused on what different. The details are described on the podcast.
Please Share on Social Media
I appreciate everyone who has helped us spread the word the podcast. If you haven't already, please post a link to your favorite episode or just one that you found useful into one of your social media streams. I'd really appreciate  it.
Future Episodes
The next month is crazy. My teams have three tournaments in the next four weeks with one of them being State Cup. After that we start all over again with tryouts the first week of June. I don't have any set plans for topics in the next few weeks but with that many games I'm sure something will come up worth sharing with you.