Podcast: Play in new window | Download
Subscribe: Apple Podcasts | RSS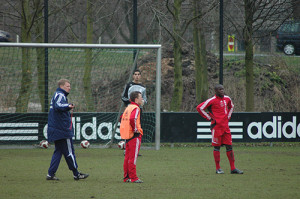 Last week reviewed the possible formations for teams playing 7 v 7. My focus was on U9 and U10 teams but I received an email from Bryan, a coach in Maryland, who coaches a U15 girls team. He found the episode useful for his team even though they play 11 v 11 but they usually play 7 v 7 or 8 v 8 at the end of training sessions so he will use the different formations I described to focus on various aspect of the game that he wants to highlight. So even if you're team doesn't play their games small-sided the formations included in this episode and the last one can still be useful.
This week I describe the formations you should consider when playing 9 v 9. This is an important transitional period since it's the final stage before the players move to the full sided game. So not only should you consider the developmental benefits of each system but also how they might help your players gain a better understanding of what they'll do in the full sided game in a couple of years.
This includes seven different formations that I think could be used for 9-a-side soccer along with the advantages and disadvantages of each one. I also describe how using each one can teach your players something different about the game as well as which 11 v 11 systems they can be transformed into. At the end I'll tell you which two systems I prefer and give you some activities to train the key concepts that I think are important for your players to understand to play within the formations most effectively.
As part of the upcoming changes to the format of small-sided games in the US our U11 and U12 teams will now be playing 9 v 9 rather than 8 v 8. I'm pleased that US Soccer recommended this change because I think having nine players on the field allows for more flexible formations to be used in order to teach different aspect of the game.
As I said in last week's episode on the new 7 v 7 format, our primary motivation at these young ages should be on the technical and tactical development of our players rather than results. It's with this in mind that I'll discuss the various formations that you can use in order to select the one or two that will work best for your team.
There may be others that I haven't considered. If there's one that you've had success with please tell us about it in the comments section of this episode on CoachingSoccerWeekly.com.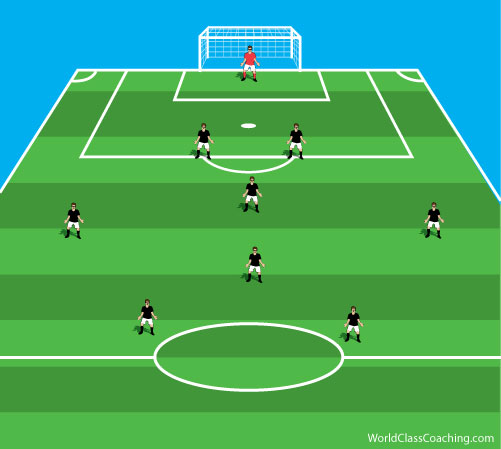 2-4-2
Advantages

Two Forwards
Great midfield presence
Excellent width

Disadvantage

Two in the back

Ok if other team is playing one forward

Transfer

4-4-2

What does it teach?

Pressure and cover in defense
Wingers staying wide
Working up and down the wings
Relationship of Forwards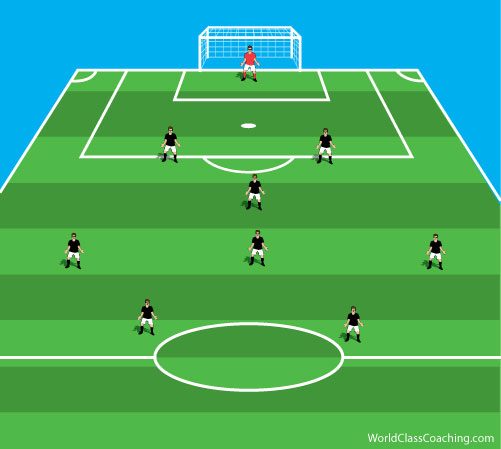 2-1-3-2
Advantages

It might not seem much different than 2-4-2

The key is the holding CM

Holding CM to screen for two defenders
Still have good width
Two Forwards

Disadvantages

Two in the back

Transfer

3-5-2

What does it teach?

Holding Mid
Attacking Center Mid
Relationship between Center Mids
Pressure and cover in defense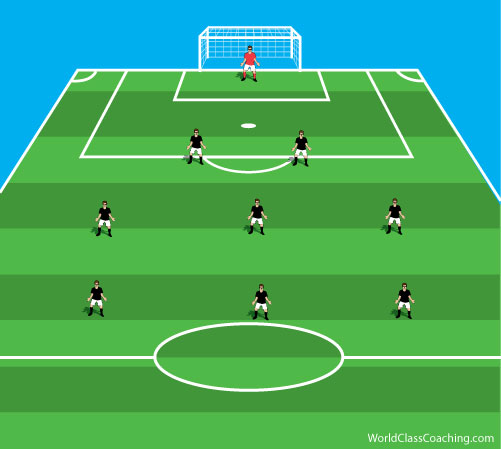 2-3-3
Advantages

Width in midfield and attack
Can play three Mids in the center
Great attacking shape

Disadvantages

Still only two in the back
Committing a lot of players to forward positions
Isolated CM

Transfer

4-3-3

What does it teach

Wingers playing a position and a half
Triangle in midfield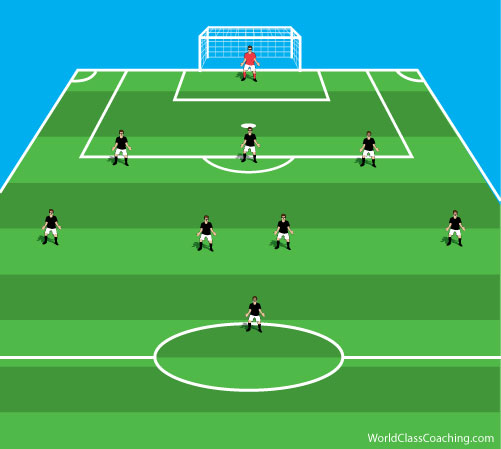 3-4-1
Advantages

Good cover in the back
Great width in midfield
Numbers in the center of midfield
Diamonds of support

Disadvantages

Only one forward

But attacking CM is able to join the attack with cover from the HCM

Transfer

4-4-2

What does it teach?

Wingers
Outside backs
Lone striker
CM relationship
Different ways to play them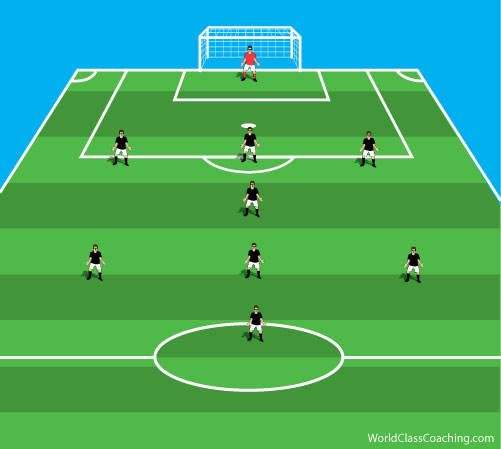 3-1-3-1
Advantages

Very balanced
Very fluid

Outside backs can push up
WM can go up or back

Cover in the back
HM
Attacking Mids to support the Forward

Disadvantages

Lone Forward

 Transfer

4-2-3-1

What does it teach?

Transition up and back
Easy to create angles of support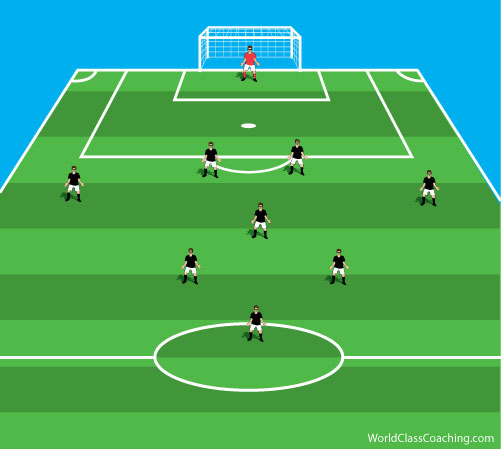 4-3-1
Advantages

Four in the back
Play three CM centrally

Disadvantages

Lone Forward
Width only in the back
Very defensive

Transfer

4-3-3

What does it teach?

Outside Back pushing up
Midfield three
My preference is to start with a 3-3-2 because it's such an easy transition from the 3-3-1 formation that we have been playing in the 8 v 8 format. As the players become comfortable with this formation I will also introduce the 3-1-3-1 because of it's flexibility and how easy it is for players in all positions to transition back and forth between attacking to defending phases.
Training Exercises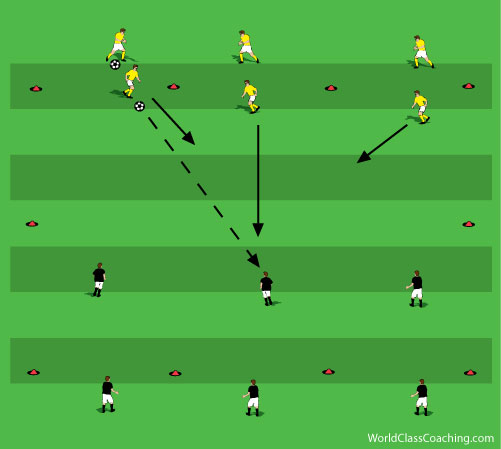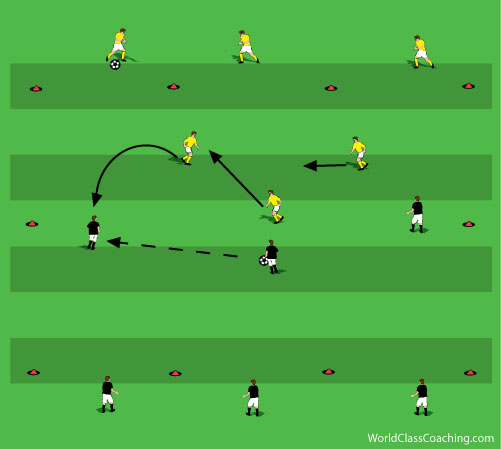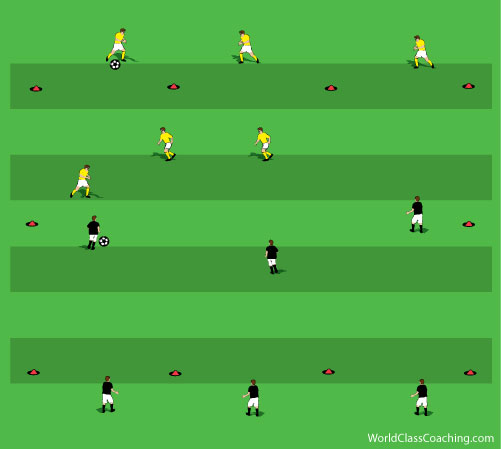 3 v 3 Exercise and Small-Sided Game
This begins as an exercise for the defenders to work on pressuring and covering with the ball in different positions on the field. Once they are comfortable with the concepts then you can make it a game where the attacking team attempts to get the ball across the endline and the defending team works to pressure and cover effectively to prevent this.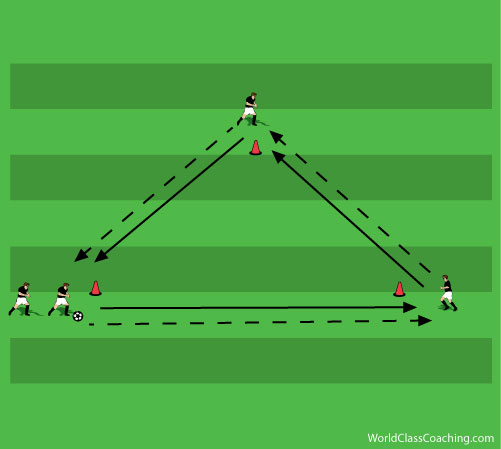 Triangle Passing
There are many triangle and diamonds created by both of these systems so working on the passing patterns that were described in Episode 8 – The Triangle Training Method. Will help create patterns that are useful for possessing the ball in these formations.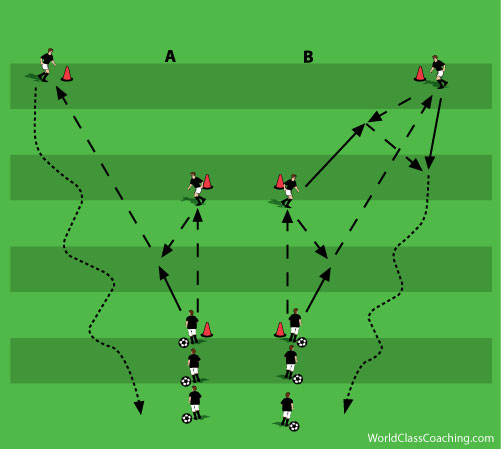 Dutch Wine Glass
This is a great pattern for working on playing up, back and through. The exercise can also be transformed into a shooting environment as described in Episode 34 – Getting More Out of Your Finishing Exercises.
You can use any number of these formations to give your players an introduction to different ways to play or you can settle on one that will give you the easiest transition to the 11v11 game. I like to use two different setups so that they can see the strengths and weaknesses of each one without constantly changing so that the players are not overwhelmed.
Whichever way you decide to go, make sure that stay focused on preparing your players technically and tactically so that they'll be ready for the next step when the time comes.
Printable Show Notes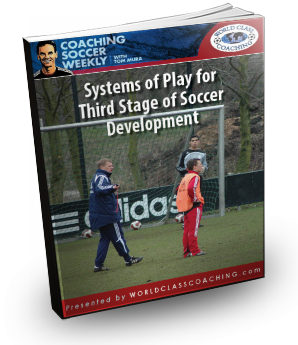 The show notes for each episode are accessed through the WCC Training Center.
They are FREE but you will need at least a Free Membership to the Training Center in order to view and print them.
Click on the image of the notes and if you're already logged in to the Training Center you'll be taken to the Podcast page. If you're not logged in your be taken to a login page where you'll also be able to login or register if you are not already a Member.
Remember!
Make sure you subscribe to Coaching Soccer Weekly through iTunes, or your podcast provider of choice, to be sure you never miss an episode.
I would appreciate it if you would leave a 5 star rating and a written review on iTunes to help spread the word about the show and the information that we are sharing here.
You can now subscribe through Google Play Music to listen to the podcast on your Android device.
In the Next Episode
Next week I'll look at another important challenge that players are faced with each year but it's even more magnified with the age group changes occurring next year. How do you best prepare your players for the transition to 11 v 11 soccer?