Podcast: Play in new window | Download
Subscribe: Apple Podcasts | RSS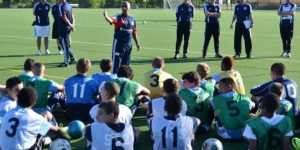 Well, my 2017/18 season has finally come to an end. The team I had in State Cup lost in the Semi Final. Only one team per age group really ends the season having accomplished its goals and having won the title but looking back I'm very happy with the progress of my team and especially of the individual players.
That's really what it's all about those. No college coach will ever ask any of these players how they did in State Cup or any other tournament when they were 11, 13 or 15.
It's now the season of team parties, camps and tryouts. As the director of our club's recreational program it's also time to organize more than 200 teams and over 3,000 players in preparation for the fall season.
Tryouts for next year are Saturday and that's the main topic of this episode.
This week's question comes from Tim. His question also inspired today's topic.
Tim says,
"As we get closer to tryout season, I wanted to ask your advice on evaluating tryouts. I attend all of our club's tryout nights as an administrator/evaluator as well as my own team's night.
Do you have a certain strategy when you are evaluating? I often find myself missing players or watching the same player for too long. Do you watch an individual player at a time, watch the game as a whole to see who stands out, or somewhere in between?
Also, does your evaluation change when it is your own team versus another team you are not coaching?"
Thanks for the question Tim!
Here's the written answer I gave Tim:
I think this question might be worth a whole podcast episode but I'll take a crack at a shorter answer here.
When I'm doing tryouts it's for an existing team most of the time. Before the tryout I've evaluated my team and the teams above and/or below my team. The key for me is to know how many players I KNOW I'm going to keep from the previous year and how many are ON THE BUBBLE. This tells me how many spots I have open. From that point I'm only evaluating the new players against my current players.
Most of the time this really limits the number of players I have to evaluate. If a new player is OBVIOUSLY stronger than an current player, the choice is easy. If they are very close, I'll usually stay with my current player (the devil you know is better than the devil you don't).
Depending on the age of the team, I'm either looking for X number of the best players or I'm looking for the best players that fit within the roles/positions that I need. Age also impacts the qualities I'm looking for. The older the player is the more I'm looking for a soccer brain and solid technique. With younger players I'm looking for game awareness and athleticism.
I think everyone has the same challenge of who to watch and what to watch for. Personally, I try to watch a player for a solid minute or two to see how they are with and without the ball. Sometimes this gives me an impression, sometimes I come back to the player and watch again. I'll also just watch the game and look for moments that players will have. Sometimes all you need to see is one or two moments to realize that the player has something.
I'm more likely to rate new players higher when I'm watching someone else's team because I don't know as much about the current players.
I hope this info helps. I may do a whole show on this in the next few weeks.
In This Episode
Tryouts are part of the competitive soccer process in the United States. Each year coaches evaluate their current players against new players who would like to join their team or club. I've done three previous episodes focused on tryouts. #16 How to Run Tryouts for More than 2,000 Players, #63 Surviving Tryouts and #105 Tryouts as a Tool for Development.
Today I'm going to focus on what I look for when evaluating players during tryouts.
Please Help Spread the Word
I really appreciate everyone who subscribes to the podcast, has written a review on iTunes, sent me a question by email or posted our links on social media. If you enjoy this podcast would like to contribute to its continued growth; I'd ask you to do one or all of these things this week. You'd be helping me spread the word about the show.
Future Episodes
My next few weeks are going to be crazy. I'm not sure if I'll have a podcast for you next week or not. I have the topics planned but I'm just not sure I'll have the time to do the work to get them ready. I'll just have to play it by ear.