Podcast: Play in new window | Download
Subscribe: Apple Podcasts | RSS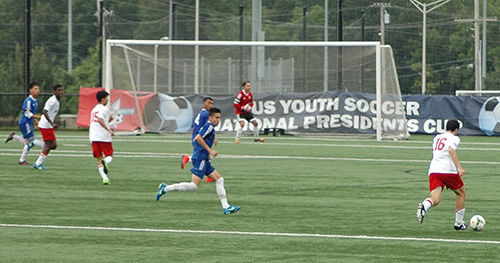 Last week I looked at formations for the 9 v 9 format that will be used for U11's and U12's in the US next year. A coach pointed out that I missed an important one, the 3-2-3. It's the formation that is often used by Ajax and others when they are playing 9 v 9.
As I looked at it, the formation has all of the qualities you need in a balanced system. It gives you numbers in attack, cover in defense and central midfielders that can work together.
It's a great formation to use if you're going to transition to a 4-3-3 or a 3-4-3. I appreciate Keith for pointing this out and giving me another option for my own teams this fall.
This week I discuss the important factors that you should consider as your team makes the transition from small-sided to 11 v 11 games.
This has always been an issue with teams making this jump but it's even more pronounced this year since there are players that will be going from only one year of 8 v 8 as U11's straight into 11 v 11 as U13. That's one of the strange consequences of the changes to the age groups.
The change will take time to adjust to but if you have a plan for dealing with each of the key areas then you'll make the transition as smooth as possible for your players.
Using small-sided games to introduce young players to soccer is meant to make it easier for them to understand the game by breaking it into small parts and then building to the full sided game over time. Even with an incremental increase in the number of players and size of the field, making the final jump to 11 v 11 can still be a challenge. If you look at the four key areas of development and have a plan to address each one you can help to smooth this transition for your players.
The four areas I'll focus on today are physical, technical, tactical and psychological.
Physical

Needed to meet the demands of a larger field
With the ball or without

Pre-Season Fitness

24 Minute Runs

During the season

10-10-10 (90 on 90 off)

Without or with a ball

Small-Sided Games

Continuous Flow Exercises

Playing with a larger ball

Technical

Different Skills

Longer passes

Passing progression

Lofted passes

Crossbar Challenge

More crossing and finishing

Four Line Shooting Pattern

Skills that become even more important

Running with the ball

First Touch

Always important
I've found players relax and don't think ahead as they should
Receiving out of the air

 Tactical

Larger Area

Break it down
Diamonds

Connecting small groups together

Center Backs with Center Mids
Outside backs with Center Mids and Forwards
Attacking Mids and Forwards

More Players

Build up defense from 1v1 through 4 v 4
Training Midfield Connections
Movement and Roles of the Forwards
Attack v Defense Games
Patterns of Play with Shooting Exercises

System of Play

Hopefully a connection to what they did in 8v8 or 9v9

11 v 11 Formation

Discuss each of the most popular formations
How they can be used to maximize development

Physiological

How do you eat an elephant?

One Bite at a Time!

Relate the game to what they already know
Build up in training so they see how it fits together
Scrimmages before the season
Friendly tournament as first event
Making the transition to full sided soccer will be a daunting process for many players but if you have a plan for dealing with each of these four key areas then you'll be putting your players on a path to understanding and appreciating the game in it's true form.
Printable Show Notes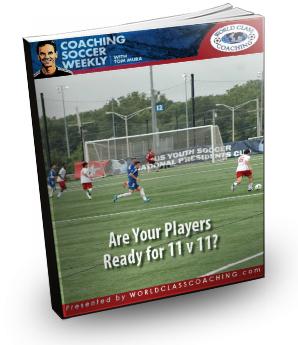 The show notes for each episode are accessed through the WCC Training Center.
They are FREE but you will need at least a Free Membership to the Training Center in order to view and print them.
Click on the image of the notes and if you're already logged in to the Training Center you'll be taken to the Podcast page. If you're not logged in your be taken to a login page where you'll also be able to login or register if you are not already a Member.
Remember!
Make sure you subscribe to Coaching Soccer Weekly through iTunes or Google Play Music, or your podcast provider of choice, to be sure you never miss an episode.
I would appreciate it if you would leave a 5 star rating and a written review on iTunes to help spread the word about the show and the information that we are sharing here.
In Future Episodes
I have a number of topics that I'm working on for upcoming episodes including the importance of the size of your training areas, training players to use space effectively and a crossing and finishing session. Let me know if there's a certain topic or idea that you'd like to hear more about and I'll add that to my list.